On September 4, 2020, we sold a bull put credit spread on ET stock, set with expiry in the next 35 days (October 9, 2020). For this trade, we got a small $15.2 premium (before commissions)
Energy Transfer Partners (now legally Energy Transfer Operating L.P.) is a company engaged in natural gas and propane pipeline transport. It is organized in Delaware and headquartered in Dallas, Texas. It was founded in 1995 by Ray Davis and Kelcy Warren, who remains Chairman and CEO. It owns a 36.4% interest in Dakota Access, LLC, the company responsible for developing the controversial Dakota Access Pipeline.
Here is our trade setup:
BOT 1 ET OCT 9 '20 - 6 + 5 Put Bull Spread  -0.20  USD  
For this trade, we got a premium of 15.2 USD (after commissions) or 2.53% potential income return in 35 days.
These trades come as the #8 and #9 in the month of September, and if we stick with our trading plan for this month, the premium generated from this trade makes us about 1.9% from our $800 monthly goal, while in total we have already reached 12.8% this month
What happens next?
On the expiry date (October 9, 2020) ET is trading above $6 per share -  options expire worthlessly and we keep premium - if ET trades under $6 on the expiry date, we get assigned.
But as we already have collected a premium of $0.15 per share, our break-even price for this trade then is $6-$0.15= $5.85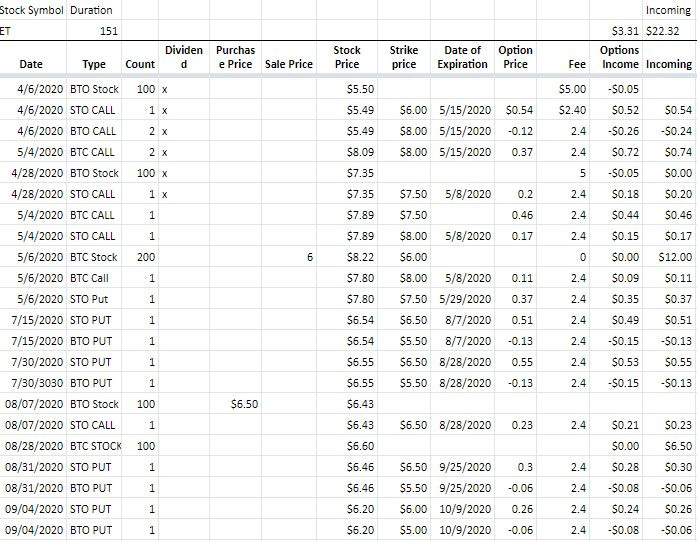 Running Total  22 Trades since April 6, 2020

Options Income: $331